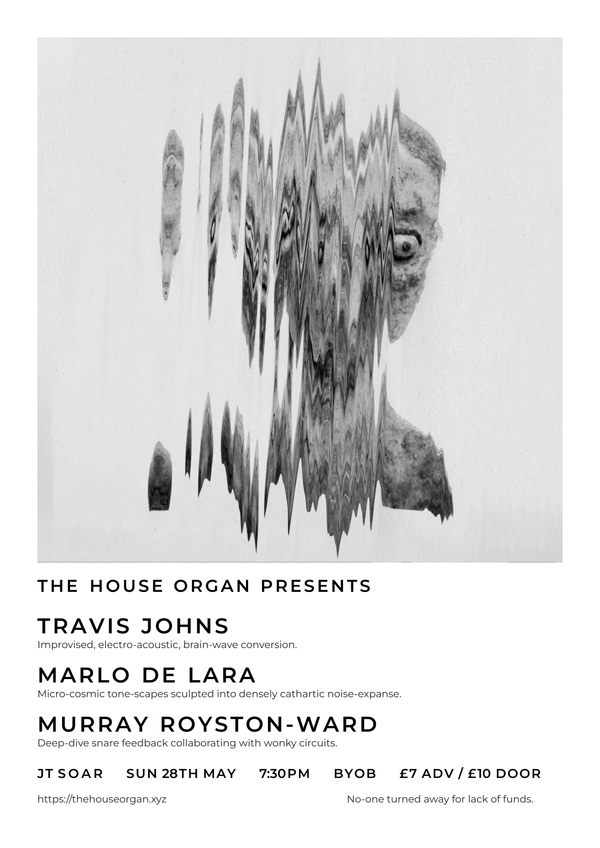 Sun 28th May 2023, 7:30pm JT Soar, Nottingham BYOB £7 ADV / £10 DOOR No-one turned away for lack of funds
TRAVIS JOHNS
Sound-artist hailing from Ithaca, NY. On tour: Improvised, electro-acoustic, brain-wave conversion. As Vauxflores: purveyor of oddball circuitry (shared territories w/ Ciat-Lonbarde/David Tudor/Don Buchla, and SF underground scene, BrutalSFX. Part of a fine experimental music lineage through Oberlin and Mills colleges.
MARLO DE LARA
Micro-cosmic tone-scapes sculpted into densely cathartic noise-expanse. Multi-disciplinary sound/art/activism, stalwart of experimental scenes in Baltimore, Leeds, and Beyond. Ladyz in Noyz, full-blown academia and community building heavyweight, the artist formerly known as Marlo Eggplant.
https://marlodelara.squarespace.com
MURRAY ROYSTON-WARD
Deep-dive snare feedback collaborating with wonky circuits. Tripping on Wires/The House Organ/Jehova's Fitness/et al.