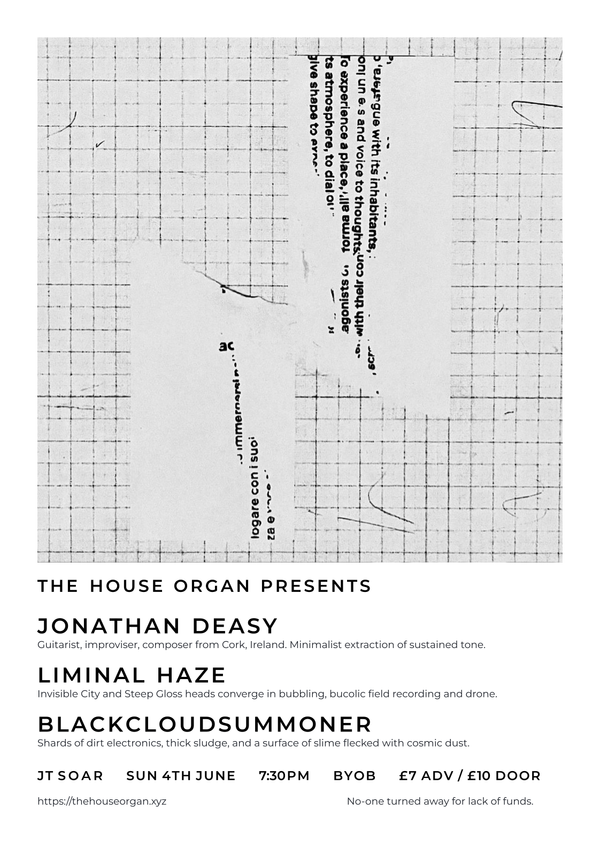 Sun 4th June 2023, 7:30pm JT Soar, Nottingham BYOB £7 ADV / £10 DOOR No-one turned away for lack of funds
JONATHAN DEASY
Self-described as a guitarist, improviser, and composer, hailing from Cork, Ireland. Releases are, however, varied; encompassing tapes, feedback, organ, cello, and synthesis. What is shared is a deep minimalism that brings to mind the term 'extraction music' whilst exploring sustained tones. Releases on Kirigisu and Tone Burst amongst others.
https://quietclapping.bandcamp.com
LIMINAL HAZE
Collaboration between Invisible City and Steep Gloss label heads; Ross - Diurnal Burdens, and Craig - Rovellasca. On tour they are also accompanied by a dancer of which I know little more (and am looking forward to finding out on the night). So far, I count 6 volumes (on Matching Head, Invisible City, Kirigisu, etc.) of bubbling, bucolic field recording and drone.
https://kirigirisurecordings.bandcamp.com/album/volume-6
BLACKCLOUDSUMMONER
Nottingham-based and highly prolific (30-odd releases since 2017). Shards of dirt electronics, thick sludge, and a surface of slime flecked with cosmic dust. BCS has always been somewhat defined by the hints of melody, beauty, and tenderness mingling with the scrape of metal and concrete destruction. Recently, releases have headed in a harsher direction but the emotive breadth remains.